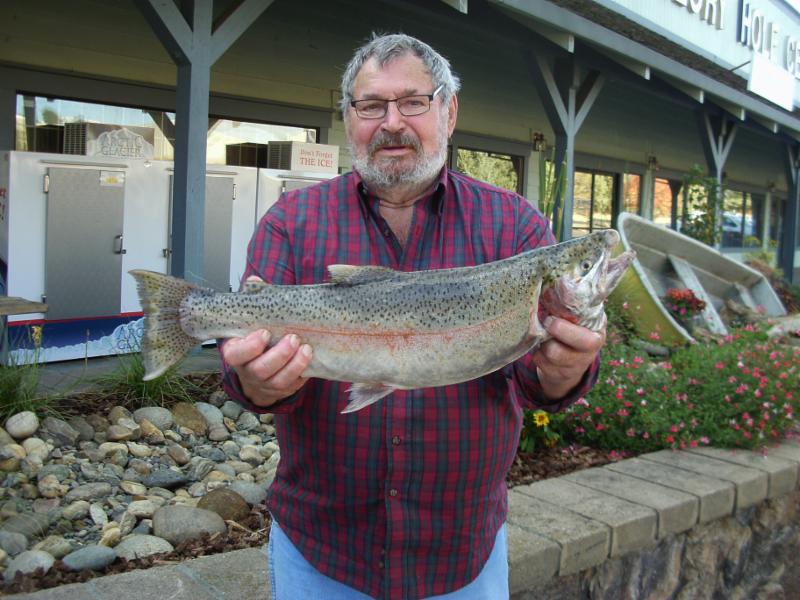 by Glory Hole Sports
11-21-2017
New Melones Lake level is currently at 1051.09 and 36.91 ft. from full. Water level had dropped to the year low of 1050.00 before rising to current level. Rivers and streams have closed for the season, refer to the fishing regulations for more info. The water temperature has dropped some the last two weeks and has spurred some Melones giants that have been brought over the side.

Trout

Despite the beautiful fish that have been brought in to Glory Hole Sports the last couple weeks, anglers are still waiting for the trout action to return in force. Anglers will occasionally bring in nice fish as Pauli Madsen showed us this week with this nice 5 lb. 10 oz. rainbow trout. Pauli reported fishing Angles Coves off shore hooking this bow around 12:00 pm. using power eggs with a 4 ft. leader at 25 ft. deep. Yet another Glory Hole Sports customer brought in a 8 lb.8 oz. trout trolling at 90 ft. in Carson Cove. Are the trout near top water or are they deep? They're pretty much where ever you catch them right now.

BASS

As winter creeps up on us the water temps. are dropping. With the temperatures in the 50's and 40's the energy levels of bass diminish as their body temp matches the water temps. The metabolism of the bass slows down processing the bait fish they have caught. With this in mind they are not much inclined to chase some high speed ripbait all over the lake trying to get some nourishment as winter sets in. Slow down your presentation, try using a crawfish colored jig with a trailer or a drop shot craw. Swimbait season will soon be upon us for some exciting bass action!

Catfish

The Glory Hole Sports Catfish contestants have been reporting a tough bite on the cats this last week. There has been ten catfish weighed in, and the weight to beat right now is 21.56 lbs. on two fish. Melones does have, and can produce a catfish that could win this tournament with just one fish.

Crappie

Not much to report on the Crappie, the bite has slowed down.
Source Link: