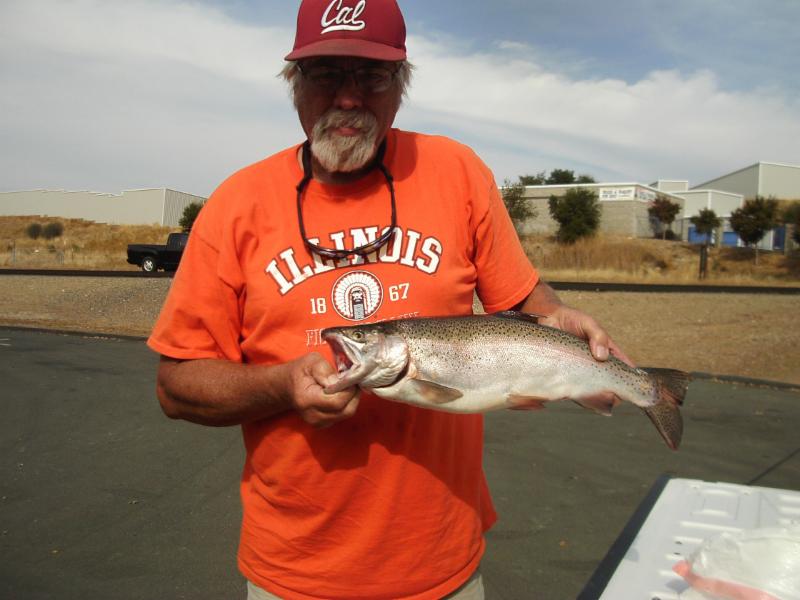 Glory Hole Fishing Report
10-23-2017
Glory Hole Sports
Glory Hole Sports
2892 Highway 49
Angels Camp, CA  95222
Phone (209) 736-4333  Fax (209) 736-4339
New Melones Lake level is currently at 1053.80 and 29.20 ft. from full. Water temperature up river is 60 d. and mid lake it is at 64 d.

Last week Kevin Olson of Valley Springs was on Melones trolling for trout towing a Excel lure in gold and hooked this nice 4 lb. 11 oz. rainbow, bring the trout to the rail. Kevin reported best bite time was at 9:00 am. He was trolling Carson Cove at 52 ft.

Charlie Laurews of Riverbank was out on 10/10 trolling Carson Cove hooking this nice 4 lb 4 oz. Bow, trolling a needlefish in Black/Chorme at 40 ft. Best bite time....7:30 am.

Dave and Trevor Ferguson landed some nice crappie near the marina using Seps grubs in pearl with a Kalin 1/16 oz. jig head.

Crappie

Look for Crappie in the marina area at 20 ft. When you get your first hookup, you can expect to stay in the same area and load up your stringer with some nice fish.

Catfish

The Glory Hole Sports Catfish Tournament starts Nov. 01, we have 20 spots left for persons interested in signing up. Most fish react differently in cooler weather, and this can be a good thing for the fisherman. There is less pressure on the fish, less disturbances in the water, the fish are larger, they are coming up, more towards the shoreline. You can find them swimming on the bottom browsing for food. Using something that has a strong attractant, look for ledges in the water, move your bait occasionally to get their attention.

Bass

The lake is cooling off, and is having a effect on all the fish in the lake. The bass anglers are having results using the plastics, and jigs in the Johnny C./ Sculpin according to the California Bass Anglers who were on the lake two weeks ago, but anything with weight n girth were far and few.
Source Link: