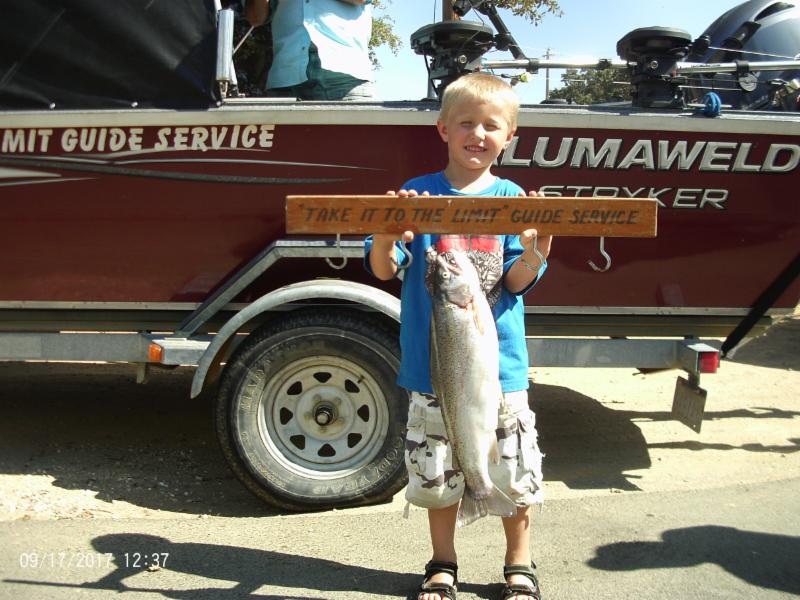 Glory Hole Fishing Report
9-24-2017
Glory Hole Sports
Fall weather has finally broke the heat wave that had a grip on us for weeks. Melones is currently holding fairly steady falling just 3 ft. in the last 30 days. Because of the cooler weather, we are noticing the trout are being caught higher up in the water column. Reports are the bows are being caught from 20' depth in the marina area, 40-75' up river with limits still being brought in. Michael and company from Stockton, hit the Carson creek area Sept. 20th, hauling in a nice limit + of rainbows weighing in between 2 and 6 lbs.

Jed Bender Jr. came out for a day on New Melones with fishing guide Gary Burns. They were fishing Coyote creek when Jed from Angels Camp hooked up a nice 4 lb.7 oz. rainbow trout, trolling 70 ft. and using a needlefish. Nice fish Jed, you win a Glory Hole Sports Big Fish button!

Crappie

Crappie and Bluegill fishing has dropped off some this week, but they are still active. Crappie and Bluegill occasionally like a change in menu from the standard ole crappie jig, and bass anglers are hauling them in on their presentations. Finding a Crappie that is large enough to take home could be the biggest challenge, with large schools of the smaller Crappie swimming in the marina area and hitting your bait. Try the coves in Angels Creek area for the larger sunfish.

Catfish

This year we have had a lot of catfish come in to be weighed and photographed, some up to 18 lbs, and majority of them coming in between 5 and 8 lbs. With signups for the Glory Hole Sports Catfish Tournament starting Oct. 1, now is a good time to start finding your honey hole out on the lake.

Bass

With the seasonal change upon us, the bass bite can be tough at times but don't count it out, just be prepared and have different presentations in the boat when one is not working. Fall can be a nice time to use a jig when the bass are feeding on small baitfish and shad. When choosing a jig you can pretty much zone in on matching the baitfish by choosing a skirt, head, and trailer in the color you want to present.