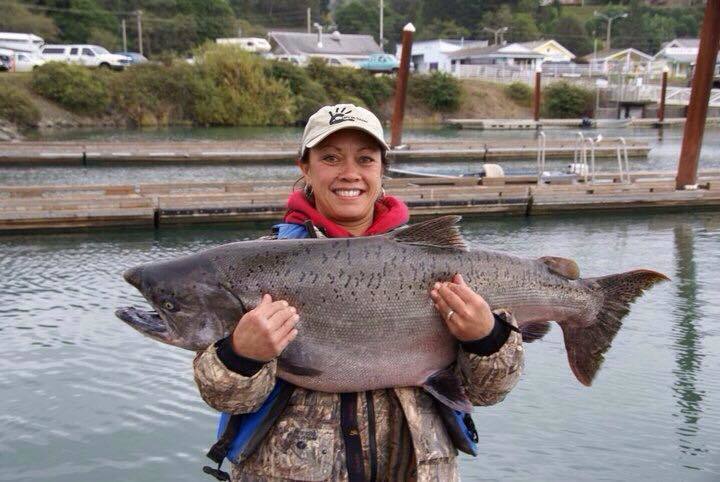 Lorissa Soriano with arms full of salmon, photo by Alex Ross.
The Golden Gate Salmon Association (GGSA) will host its 4th Annual Sonoma Dinner on Thursday, November 9 at Cornerstone Event Center.  The dinner will honor the Sonoma Valley dairy and wine farmers the Mulas Family who have been using recycled water for decades on their dairy farm and fields. According to Ray Mulas, who is also the fire chief of the Schellvista Fire District, "We are not strangers to water re-use and recycling as we have been using water from the Sonoma treatment facility since I was 12."
Proceeds to be split with fire relief efforts; please join us as we raise money for locals effected. 
John McManus, executive director of GGSA noted, "We realize that much of Sonoma County and beyond have just experienced tragic loss.  We look forward to coming together to raise money for both fire relief and GGSA's long term goal of rebuilding the salmon runs that support Sonoma County's economy.  We have double the reason now to honor the Mulas family who saved lives and property through their operation of the Schellvista fire department.  Before the fire we planned to honor their pioneering use of recycled water for their dairy operations.  They've demonstrated a balanced use of water that leaves enough for salmon and the environment."
The special event will be held at Cornerstone, 23570 Arnold Drive in Sonoma.  Doors open at 5:30pm and tickets are $125 per seat, or tables of ten are available.  Tickets are limited and are available by calling 855-251-GGSA (4472) or by visiting goldengatesalmonassociation.com/
Cornerstone is a wine country marketplace featuring a collection of world-class shopping, boutique wineries, tasting rooms, artisanal foods, art-inspired gardens, live music, and is home to Sunset's Gardens + Outdoor Test Kitchen. Located at the gateway of Sonoma and Napa County in California's beautiful Wine Country, Cornerstone is a place to shop, sip, eat, play and explore.
It will be a great night featuring fresh caught salmon prepared in different ways by Sonoma's Top Chef's including at press time Carlo Cavallo – B&V Whiskey Bar and Grille, Adolfo Veronese – Aventine Glen Ellen, Ed Metcalfe – Shiso and Kyle Kuklewski – Ramekins. 
The night will also feature wines, cocktails, silent and open auctions, and the chance to compare fish stories and raise funds for GGSA work to keep abundant salmon stocks in California. Attendees will get a brief update from GGSA on the current state of salmon affairs.
The Golden Gate Salmon Association is a coalition of salmon advocates that includes commercial and recreational salmon fisherman, businesses, restaurants, a native tribe, environmentalists, elected officials, families and communities that rely on salmon. GGSA's mission is to protect and restore California's largest salmon producing habitat comprised of the Central Valley rivers that feed the Bay-Delta ecosystem and the communities that rely on salmon as a long-term, sustainable, commercial, recreational and cultural resource.
Currently, California's salmon industry is valued at $1.4 billion in economic activity annually in a regular season, and about half that much in economic activity and jobs again in Oregon. The industry employs tens of thousands of people from Santa Barbara to northern Oregon. This is a huge economic bloc made up of commercial fishermen, recreational fishermen (fresh and salt water), fish processors, marinas, coastal communities, equipment manufacturers, the hotel and food industry, tribes, and the salmon fishing industry at large. 
Source Link: