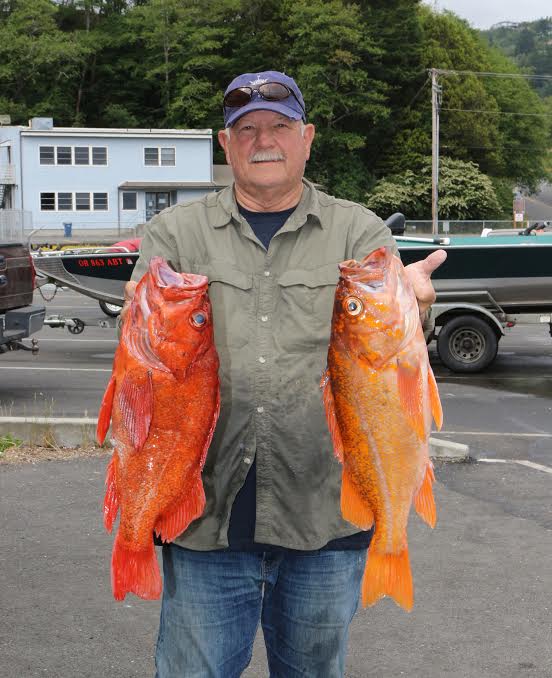 Tim Anderson from Galt, California caught these 8-pound-plus vermilion and canary rockfish while fishing in the ocean out of the Port of Brookings Harbor. Photo by Larry Ellis.
Written by Larry Ellis
7-7-2017
Website
OK, I triple dog dare you! Say the title of this article ten times really fast without slurring your words.
You can call them whatever you want: feeders, springers, kingster-amma mammas or Chinook-meisters.  But a salmon by any other name would still taste as sweet. Whichever name you wish to assign them, these Chinook are giving anglers plenty of rod-bending, line-peeling adrenaline rushes in both the Chetco and Rogue bays.
"The majority of the springers have left and we've got feeder fish coming in," said Rogue River guide John Anderson on Thursday.  "One day they bite like mad, like yesterday there were over 40 fish caught in the morning. Today we may have seen 15, maybe 20 fish."
No one really knows for sure if anyone will hook and land a salmon in the Rogue Bay.  But according to Anderson, one thing is for sure.
"If you put enough time in, you should be able to find at least 1; maybe 2 fish," notes the river guide of Memory Makers fame.
I asked Anderson what he considers to be the definition of a feeder fish.
"They're basically someone else's fish," explains Anderson.  "They're coming out of the ocean and in with the tide, feeding on all the bait that we've been getting in the bay and then they're going back out to sea.  I talked to several other guides such as Vernon Grieves, Les Craig and Tyson Crumley, and we all feel that these are feeder fish. If the baitfish stick around, the bay will fish.  If the baitfish leaves, we've probably got a week until our fall fish really start to show."
Sounds like a win-win situation to me.
These feeder kings have been averaging between 11 and 16 pounds, occasionally larger.  So make sure to buy a hatchery harvest tag this year because you never know if you're going to catch the occasional adipose fin-clipped hatchery Chinook.
"We know of 40 fish caught yesterday," Larry Cody from the Rogue Outdoor Store in Gold Beach concurred on Thursday.  "Anglers are both trolling the bay and anchoring upriver."
Cody also says that a portion of anglers are still catching these salmon on the Brad's Cut Plug Herring with oil-packed tuna jam-packed in the scent chamber."
So as I stated in last week's article, you definitely will want to carry the standard spinnerbait/anchovy beaded setup that is equipped to attach a spinner blade, and you will also want to keep a stock of straight-bait rigs on hand as well, because you never know what a salmon's going to want to munch for lunch.
The Rogue Outdoor Store also carries an ample supply of really good-looking trays of beautiful anchovies.  My advice is to carry at least two trays of 'chovies per person because you never know if you're going to get side-swiped by a bird or a crab.
In addition, make sure that you keep these anchovies very cold.  I like to drop some ice on the bottom of a cooler that has been thoroughly cleaned at the end of every day, and then sprinkle some non-iodized salt on top of the ice, which will keep the baitfish nice and frozen to avoid bacteria from forming.
Remember that the same powers of scent that attracted these feeders to the baitfish in the bay are equally repelled by the scent of bacteria caused by baitfish warming up.
On another note, there are still a few salmon being caught in the Chetco Bay.  When I say the Chetco Bay, I am referring to the end of the Chetco River that is well inside the boundaries of the north and south jetties.
Just draw an imaginary line between the tip of the north and south jetty and you've got the boundary between the ocean and river.  Inside this imaginary line is the Chetco Bay and river mouth, while outside this imaginary line marks the beginning of the ocean.
Do not troll your spinnerbait rigs outside this boundary.  That's a red-hot ticket ($1,600.00 I last heard) just waiting to happen. Always lift your baitfish well out of the water when outside this boundary line.  When you are inside the river boundary - bombs away!
Also don't forget that cabezon are now legal to keep as part of your 7 fish marine bag limit. The limit is 1 cabezon per day.
The bottomfishing has been fantastic outside the Ports of Brookings Harbor and on those rare occasions, Gold Beach.
Redtail surfperch still continue to thrill anglers of all ages.
Tuna
A caravan of boaters from Brookings towed their vessels up to Charleston Harbor on Thursday in search of their first albacore.  The action was wide open, and so hot and heavy that most fishermen stopped fishing because their arms were sore and weary.  Boats came back to the Port of Brookings Harbor to clean the large tuna on Friday.  Boats averaged between 33 and 60 tuna.
Tight lines!
Larry Ellis, author, writer, columnist and photographer has had a 50-year passion for fishing in California and Oregon's saltwater and freshwater venues. He is a well-known writer for Oregon, Washington and California Fishing and Hunting News, Northwest Sportsman, California Sportsman and Pacific Coast Sportfishing. He currently writes monthly for Salmon Trout Steelheader Magazine, and is the weekly fishing columnist for "On the Water" for the Curry Coastal Pilot Newspaper. He particularly loves living in his hometown of Brookings, Oregon - The heart of salmon country and gateway to fishing paradise. Posted with permission of the Curry Coastal Pilot of Brookings, Oregon.
http://www.myoutdoorbuddy.com/articles/67879348/feeder-fish-finding-frenzied-fishermen.php