2-14-2018
Tom Loe
 (760) 935-4250 
East Walker River Fishing Report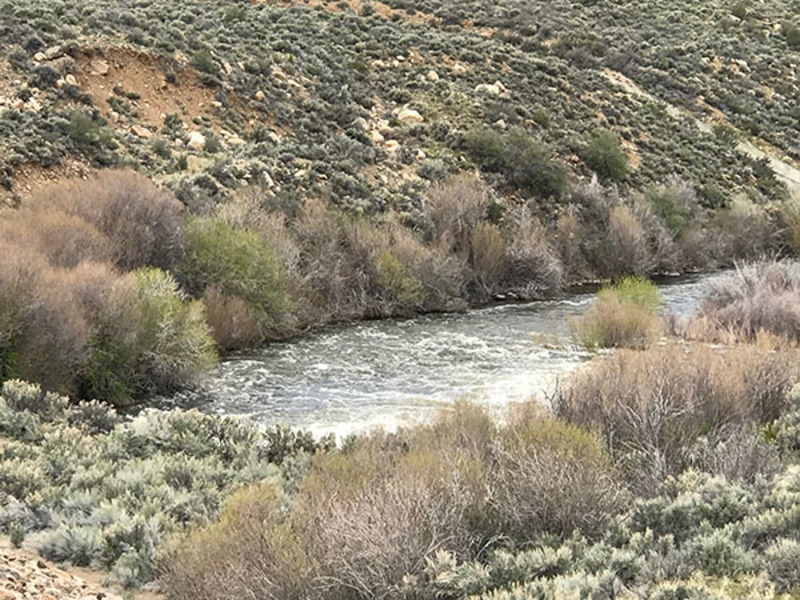 We are currently not guiding the EW due to extremely low release rates. 28cfs. is a trickle, and drives the fish to the deepest depressions. The trout experience severe stress under these conditions, and we have opted to let them be until flows move up over 50cfs. again.
Upper Owens River Fish Report
Disappointing to be honest. I should be reporting great fishing for the migratory rainbows we call Crowley Steelhead. Numbers have plunged recently. Water conditions have actually been favorable for a solid run on the UO. After numerous years of planting sterile "triploid" fish, the ramifications of this fisheries management (or lack there of) may finally be taking its toll. Triploids have no instinctual mechanisms to spawn; or migrate upstream. They remain in the lake unlike fertile trout that swim upstream to propagate. Sterile fish have been planted exclusively throughout the Sierra in recent years due to laws implemented in the past decade to protect the genetic integrity of native "west slope steelhead". Changes in the fisheries management plan this year, mostly specific to this water shed,  are permitting the planting of "diploid" trout once again. Hopefully we will see fish counts improve in the tributaries after a couple years.  There are a few bigs around, covering a lot of water can get you a shot at the elusive ones. Some smaller resident fish are sipping on midge clusters in the pillow water of the larger pools during periods of warmer weather.  Getting your rigs on the bottom with water conditions like this require obscene amounts of weight, lengthy leaders, and aggressive mending tactics to achieve drag free drifts. Crystal Eggs, San Juan Worms, #16-18 Assassins (dark and light), #14-16 Crystal Leeches, and #16-20 Copper Tiger Midge, Zebra Midge, and Gillies have been good patterns fished with plenty of weight below an Under-Cator.  There is some nasty mud in the ruts after the ground thaws on some of the two track roads leading down to the river. 
Looking ahead I see a STRONG probability that the spring migration of cutthroat trout will be earlier than usual. Water levels rising in Crowley, elevated water flows, & warmer than normal air temps typically pave the way for these beautiful fish to begin moving in March. Last years run was weak here; but conditions are conducive to a solid show this spring.
The section upstream from the Benton Bridge is open year around with special regulations. Seasonal closures, and angling restrictions apply downstream from the bridge, check regulations before fishing in this section. We walk and wade guide here. During winter we will access the UO with snowmobiles.
Hot Creek Fishing Report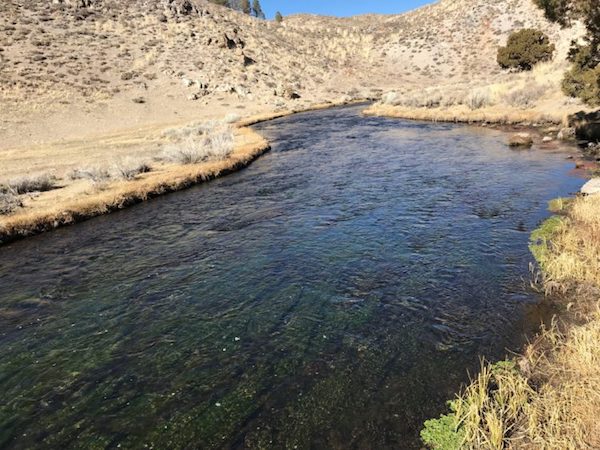 Numbers are pretty good here as the newbies acclimate to their new home, & spread out along the deeper slots and pools.  The stream bed is blanked by thick aquatic weeds. This is normal for the lower water periods of the year. Water conditions can be higher, & slightly off color during extended warmer periods; or if it rains.   Best bite occurs during early afternoon when the BWO's are emerging. Large midge hatches coming off during a high barometer. Dry dropper rigs with a #16-18  Para Hi-Vis BWO and a #22 Gillie dropper 12″-18″ below is a consistent rig currently. When you observe those noses sipping the adults in the suds, remove the dropper, and dope up those high wings so they ride high on the surface.  Longer leaders, & light tippet in the 5-6x class is best. During off hatch periods try attractor patterns fished without an indicator. You can get into some of the larger fish using this method during the winter months.
This is a year around fishery with special regs in place. We walk and wade guide here.*Tom Loe, Doug Rodricks, and Doug Dolan are under permit from the Inyo National Forest Service to guide Hot Creek.
Source Link:
Other articles you may enjoy
 

By Western Outdoor News POSTED: 02/15/18 TOP PICKS FEATHER RIVER >> Good striper fishing is expected this week after hatchery steelhead smolts were expected to be released into the Feather at Boyd's Pump. Jumbo minnows will be the bait of choice. A few resident stripers are being caught at Boyd's Pump and Star Be...

 

Is a Photo of My Fishing License Good Enough?

A CDFW wildlife officer talks with an angler. Photo Credit: CDFW by Carrie Wilson2-15-2018 Website Question: I have a picture of my current fishing license and hunting license on my phone (as well as my driver's license). That shows all of the legal stamps, stars and stripes that might be required for what I am doing l...