7-22-2017
Jim Reid
(760) 932-7707
Bridgeport Reservoir Fish Report
Bridgeport is still the hot spot lately as long as you have a boat or kayak. We haven't had any good reports from the shore but the fishing over in Buckeye Bay is excellent. Bait anglers have been using mice tails, pinched crawlers, night crawlers and power bait. The weeds over most of the lake are growing so it's making the trolling a bit more difficult but if you pay attention to your lures and keep them clean you should be able to pull some nice fish. Rapalas, thomas bouyants, speedy shiners and crawlers are all good to troll with. This week we've seen numerous fishin the 3 to 6 pound class with one tipping the scales at 8 lb 10 oz.
West Walker River Fish Report
The West is starting to come down a bit but is still fairly high and off color, not chocolate milk off color but not clear yet. I'd say that over the next  couple weeks it should shape up pretty nicely. As we start getting reports in we'll let you know! 
East Walker River Fish Report
Well, if all you EW fans are watching the flows at all you'll notice they're down quite a bit, to around 550! This is pretty good news for the river! We haven't had too many reports yet but the ones we've had are starting to look up. This flow is definitely a better flow for anglers. The water could fluctuate quite a bit for a while but I think as long as it stays below around 600 the fishing should be pretty good. The reports we have received the anglers did the best with midge and caddis nymph patterns under indicators. There's also a good number of rainbows being caught, many of which probably came from the reservoir through the dam. Patterns to try include: zebra midge, flashback emerger, rainbow warrior, prince, dark lord, fox's poopah, buckskin caddis, 3 wire caddis. 
Virginia Lakes Fish Report
The Virginias are a little hit and miss from what we've been hearing, probably due to the colder water temps up there. Some of the successful anglers we've talked to have been using mice tails and night crawlers, kastmasters, panther martins and thomas bouyants and the fly anglers have been catching fish on matukas, soft hackles, seal buggers and leech patterns.
Sceirine Ranch Fish Report
We haven't had anyone on the ranch this week but when the flows start to come down we expect the fishing to be excellent down there! 
No reports from Kirman this week, if you have any information from up there and want to pass it on it would be appreciated! 
Hunewill Pond Fish Report
We only had one client on the pond this week, he reported good fishing though at first he was fishing in some weedy areas but when he found a couple areas where the weeds werent as bad he started hammering fish. He fish mainly soft hackles. Other patterns to try include:  mayer's mini leech, stillwater nymphs, seal buggers,  zug bug, flashback emerger, zack attack leech.
Twin Lakes Fish Report
  7-22-2017
Twin Lakes Resort Staff
(760) 932-7751
The Twins are also kicking out some nice fish with a few going over 6 pounds this week. The trolling has been pretty good with rapalas, thomas bouyants and kastmasters, bait anglers are using mice tails, crawlers and powerbait. Fly anglers are having success with matukas, buggers, seal buggers, soft hackles, zug bugs and prince nymphs.  
Big Bows biting at Lake Mary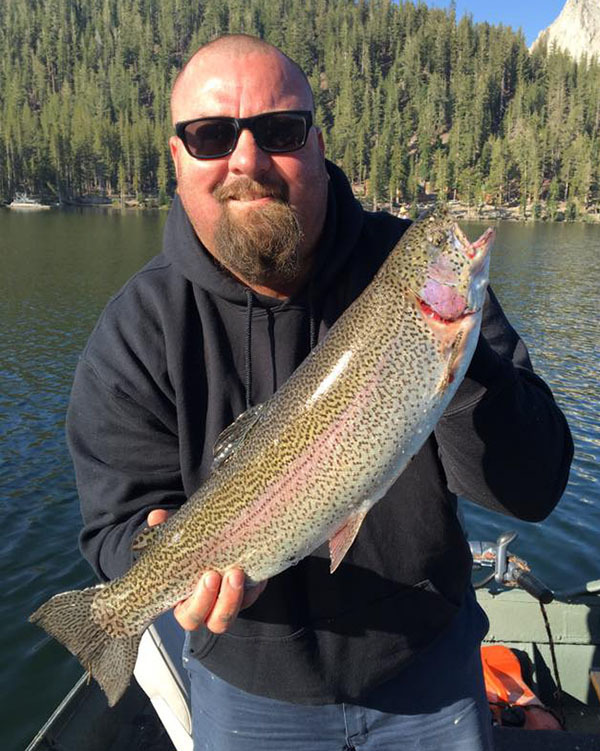 Big Bows biting at Lake Mary
7-22-2017
Chad Woods
(775) 624-7778
Angler Jay Delk checked in tonight with a Lake Mary update. Jay has been fishing at Lake Mary the past couple days and has nailed a couple nice fish. Jay caught a 4.89 pounder yesterday and a 3.0 pounder today. The hot ticket for Jay was a Red and Gold Thomas Buoyant. Stay tuned for more!