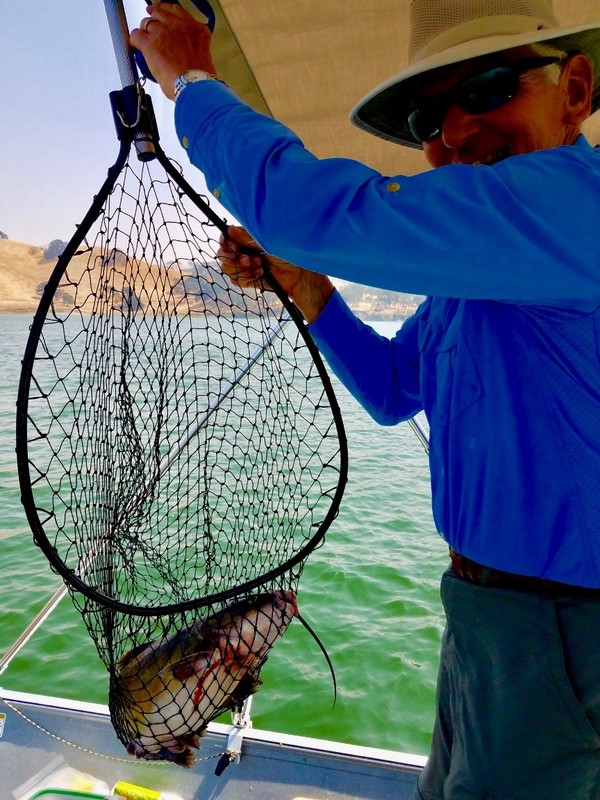 Del Valle Lake Fishing Report
9-8-2017
East Bay Regional Park District
(888) EB-PARKS
GENERAL CONDITIONS

The weather this week here at Lake Del Valle has been hot and humid. Temperatures ranged anywhere from the high-80s all the way up to about 107. The surface temp. hasn't varied much and is still sitting at 78 degrees. With the weather this week being so humid fishing was real tough from shore and boat.

Our good friend Dr. Al Hurwitz came out to troll for smallmouth bass and here is his report:

"Rita Ferreyra of Pleasanton and Al Hurwitz and his wife, Marge, of Saratoga teamed up to troll the lake on 8/31/17. We trolled 1/4 oz Panther Martin Spinners, 15 feet below the surface, frequently applying scent to the lures. We caught 9 Smallmouth Bass. A big surprise was this nice 6.5-7lb catfish caught by Marge and pictured here in the net. It is relatively rare to catch catfish trolling spinners, but I and my fishing colleagues have done it a few times. Perhaps it's the scent applied to the lures.

It was extremely hot today, but the new canopy on the deluxe boat kept us cool and did not affect our trolling maneuvers because of its relatively flat shape and minimal air resistance. All in all, a great day!

CATFISH

Catfish are always a good species to target. Catfish love cover like fallen trees, weed beds, tule patches, etc. I've had many anglers this week catching them on chicken liver, anchovies and night crawlers would work also.

STRIPED BASS

Stripers are a good species to target this time of year. Early mornings around 6-10am and evenings around 5-7pm are going to be the best time to target them. We have had many anglers come back with reports of seeing striper boils out by the dam. If you come upon a boil I would recommend using either a small top water lure or a swim jig. If you get tired of throwing lures I would sit bait around rocky points and sandy beaches. Best baits would be either anchovies or chicken liver.