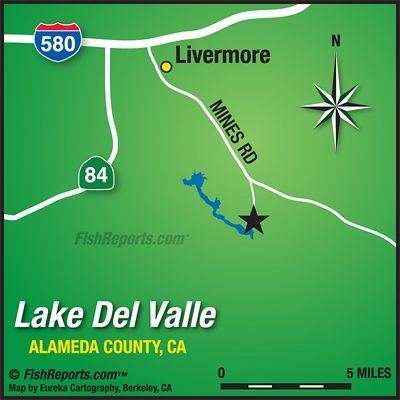 Del Valle Fishing Report
2-13-2018
Del Valle Marina
 (510) 544-3146
The weather our here at Lake Del Valle has been beautiful for this time of year. Early mornings in the low 40s with temperatures rising up into the low to mid 70s mid¬day. The hot bite this week has been trout with many anglers having success.
For trout, most anglers like to use either power bait or power eggs. I would also recommend using either night crawlers or small spinners. Make sure your fishing shallow sand flats and If your fishing from boat make sure you keep moving if you're not getting any bites.
Catfish are going to be in deeper water I'd say about 20-25 feet deep. Best baits to use would be either anchovies or mackerel. I would also recommend using night crawlers.
I have had a few anglers tell me they've hook into some decent sized stripers in the 6-9 lb. range recently with the water rising a little the stripers might start becoming active again.
I apologize for not having any pictures this week our camera wont focus right now every picture is blurry.
Source Link:


Our Thinsulate®,  Polyester fleece lined, and Knit beanies keep you warm and toasty during those cold winter months! Water and wind resistant, our black Thinsulate® beanie provides the protection you need in harsh conditions. The Polyester fleece lining on our grey beanie serves as a second layer of protection against freezing winter winds.  Our Knit beanies are loosely knit and smaller in size, this beanie grips your head and fits nicely under you hoodie.