Crowley Lake - Mammoth Lakes, CA (Mono County)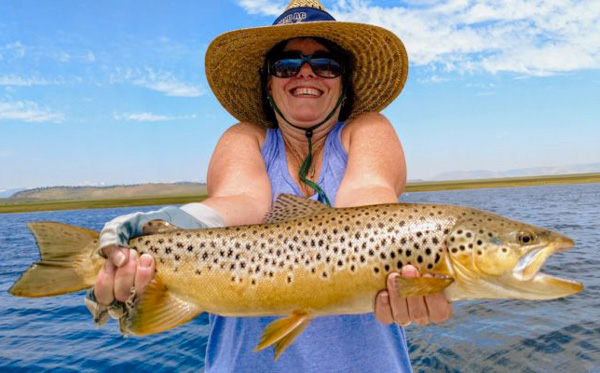 Lisa Daniels with a large brown who is probably chock full o'perch fry!
Excellent fishing on the lake currently. We are rejoicing the return to fishing short leaders in shallow water again. The fish have moved into the shallows and are cruising the weed lines and gorging themselves on damselfly nymphs and perch fry. Fish can be found above the shallow weeds and inside the creek channel of McGee. The quality of these fish has been outstanding and it is immensely fun to hook them in the shallows. They have no where to run but out and can't dive deep so we are seeing the backing on our fly reels quite often. Our "Parallel Punk Perch" and "Parallel Assassin" patterns have been the hot fly hung under an indicator. Fish are also taking smaller midges over the mud areas where the weeds don't grow. We have been seeing 50 + fish days quite often as the conditions have been prime. You can expect the bite to get better and better from here on out through the rest of summer and into the fall.
If you would like to go fly fishing with Sierra Drifters give them a call at (760) 935 4250 and for more information visit their website www.sierradriters.com.