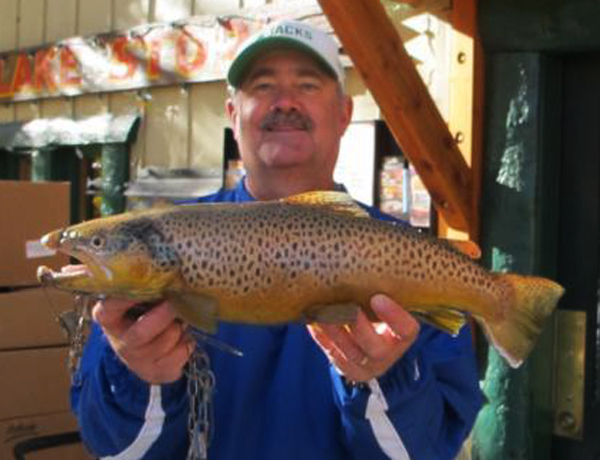 Convict Lake Resort Fish Report 10/30/17
10-30-2017
FishReports.com
(775) 624-7778
The Browns Are Back!
Carlsbad resident Dan Buller caught this nice 4lb 2oz brown near the south shore using a Sierra Slammer. 
Hello Chad,    
It was another epic week of fishing.  A decent amount of 5lb fish were brought in this week along with a nice 7 pounder. Desert Springs Hatchery planted 400lbs of trophy sized trout last Friday. Department of Fish and Wildlife has also recently stocked. It is currently in the 50's here and the nighttime temperatures are in the mid 40's. We are expecting the temperatures to drop this weekend and snow is in the forecast. The Restaurant at Convict Lake is also open daily. Don't forget, our Ambush at the Lake Derby is going on now, be sure to sign up!  I hope you all have a great week and Happy Halloween!
-Kristen Petersen 
Marketing Coordinator
Convict Lake Resort
Tactics and Bait
It was a great week of fishing. A good amount of big fish were brought in this week. Powerbait in garlic scent scent has been bringing in the big ones. Pink and white mice tails have also been working well. 
Here is a list of other baits/lures that also work well: Panther Martins, Tasmanian Devils, green or brown Marvel Fly Lures, Kastmasters, NeedleFish, Roostertails, and garlic scent on Powerbait.   
Weather
This week we are expecting temps in the high to mid 60's. Nighttime temps will be in the high 50's to low 60's. Toward the end of the week the temperatures will start to drop. We are expecting some snow this weekend.
Sunrise and Sunset
Sunrise this week 7:20 am
Sunset this week 5:58 pm
For more info visit our website
Source Link: