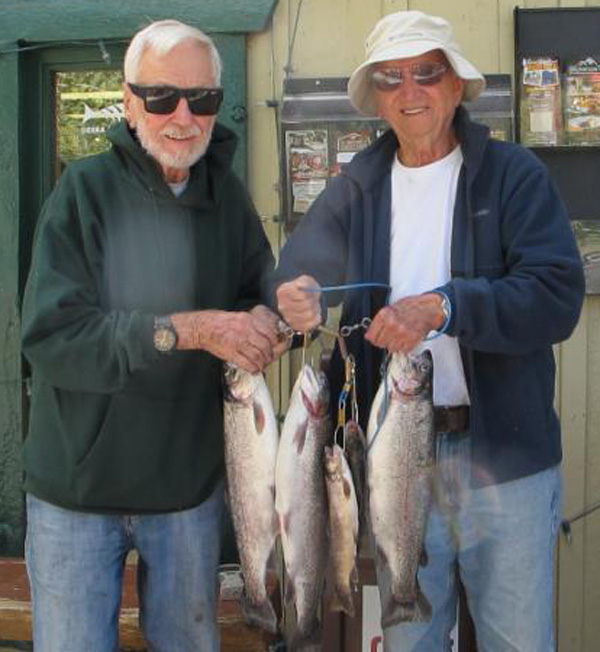 Convict Lake Resort Fish Report 9/20/17
9-20-2017
Convict Lake Staff
(760) 934-3800
Hello Chad,    
I apologize for the late report. It has been a very busy week here! We have stocked the lake multiple times this month which has made for some epic fishing! It is currently in the mid 60's here and the nighttime temperatures are in the 30's. A decent amount of 4-5lb fish were brought in this week along with a couple 7 pounders. We have stopped serving lunch on the front lawn but we will remain serving breakfast burritos Friday-Sunday until further notice. The Restaurant at Convict Lake is also open daily. I hope you all have a great week! Don't forget, our Ambush at the Lake Derby is going on now, be sure to sign up! 
-Kristen Petersen 
Marketing Coordinator
Convict Lake Resort
Tactics and Bait
We had another great week of fishing here at Convict Lake. Some big fish were brought in this week. Powerbait, Inflated Nightcrawlers and flat fish lures are working the best. For those of you who are not familiar with flat fish lures they are a trolling lure normally bright in color. 
Here is a list of other baits/lures that also work well: Panther Martins, Tasmanian Devils, green or brown Marvel Fly Lures, Kastmasters, NeedleFish, Roostertails, and garlic scent on Powerbait. 
Derby News
Our Ambush at the Lake Derby started September 4th and ends November 15th! This is your chance to win, we will be raffling off over $6,000 in resort prizes. Our bonus derby weekend will be held Oct 27th- 29th with your chance to win $2,200 in resort prizes. If your up in the area be sure to stop by the general store to sign up!
Weather
This week we are expecting temps in the high to mid 60's. Nighttime temps will be in the high to low 30's. Unfortunately, it has been getting pretty windy in the evenings. If you plan on coming up be sure to get your fishing in early.
Sunrise and Sunset
Sunrise this week 6:42 am
Sunset this week 6:54 pm
http://www.norcalfishingnews.com/fish_reports/67882247/convict-lake-resort-fish-report-9/20/17.php