11-27-2017
Tom Loe
(760) 935-4250
East Walker River Fish Report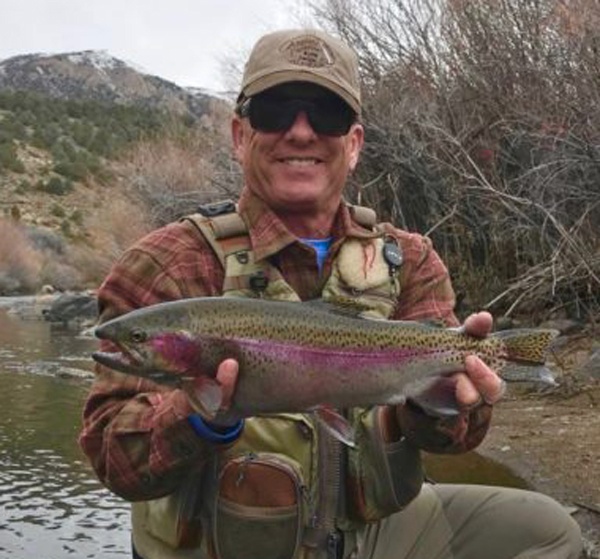 Flows here are now at 50 cfs. This place has not stopped giving up fish. These rascals have been eager to take flies as they get ready for the approaching winter. Go with 4X tippets in the faster water sections and you can get away with 5X in the slower water. Redundant drifts can produce some real beasts and some pools and runs are holding good numbers of fish. Best flies have been Crystal Eggs, #20 Serendipity, SJ Worms, Crawdad in Olive and Tan, #16 Punk Perch and Balanced Punk Perch, #20 Brassie, and #18-20 Copper John's in original and dark green.  Book your trip here. This fishery is open year around with special regulations.
Upper Owens River 11/27/17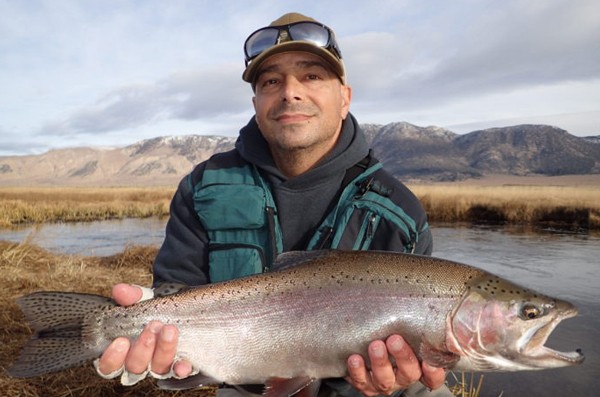 Holding steady at 67 cfs here. More fish have recently entered higher into the river and spread out. Targeting the deeper pools and undercut banks have given up some nice sized fish. You will see rising fish throughout the day in the eddies and slower moving water sections. The big fish have been tight to the bottom and on the move every few days. Heavy angling pressure over the holiday weekend had slowed the bite temporarily, but covering water was the key to getting some "Crowley Steelhead" to bite. Crystal Eggs have been accounting for most of our trophy catches out here, but switching up or adding a second fly to your rig is sometimes necessary to get these bigs to bite. No snow to report down here yet,  so the roads are still accessible by car. We have guides standing by to get you on these bigger rainbows!
Here's Larry with a beautiful male that fell victim to a Crystal Egg!
The section upstream from the Benton Bridge is open year around with special regulations. Seasonal closures, and angling restrictions apply downstream from the bridge, check regulations before fishing in this section.
Jurassic Pond Fish Report
The "Pond" is now closed for the season and we will start guiding here again next Spring!
Jurassic Pond has no equal in the Eastern Sierra. This private water holds the largest rainbow and brown trout to be found anywhere in the region. Sierra Drifters Guides have exclusive access to these amazing fish. Book your trip for next season and see for yourself how fantastic Jurassic Pond truly is!
Hot Creek 11/27/17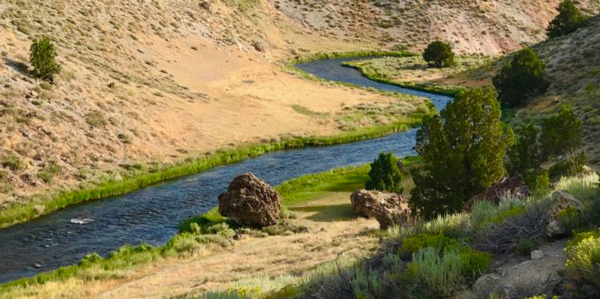 Flows now at 16 cfs. Water conditions are very good for this time of year. No snow or ice present at this time.  Smaller nymphs like Assassins and FB PT's still working with small indicators or dry flies (high vis BWO's) used as attractors/indicators. Solid BWO hatches will come off throughout the winter. CDFW planted thousands of juvenille trout recently. Hopefully these fish will survive the winter, and we will see a large increase in fish counts for next summer. There are some really beautiful fish holding in the deeper pools and runs; but don't expect a huge numbers day on the holdover fish.
 This is a year around fishery with special regs in place.
*Tom Loe, Doug Rodricks, and Doug Dolan are under permit from the Inyo National Forest Service to guide Hot Creek.
Crowley Lake Fish Report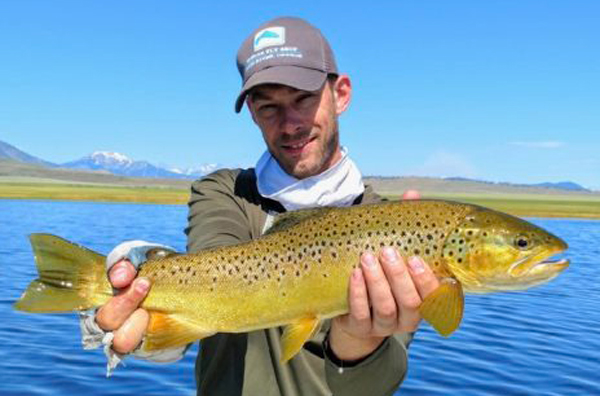 Season closed until April 28, 2018.
 Big Ben Kaufmann with a stunning brown he got with Doug Rodricks. Crowley will be in great shape for the 2018 season so reserve your guided trip on one of our fish magnets now.
Bridgeport Reservoir Fish Report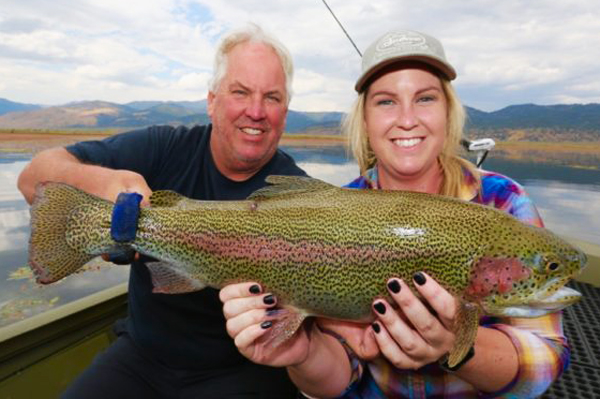 The reservoir is now closed until 4/28/18.
If you would like to go fly fishing with Sierra Drifters give them a call at (760) 935 4250 and for more information visit their website www.sierradriters.com.
Source Link: