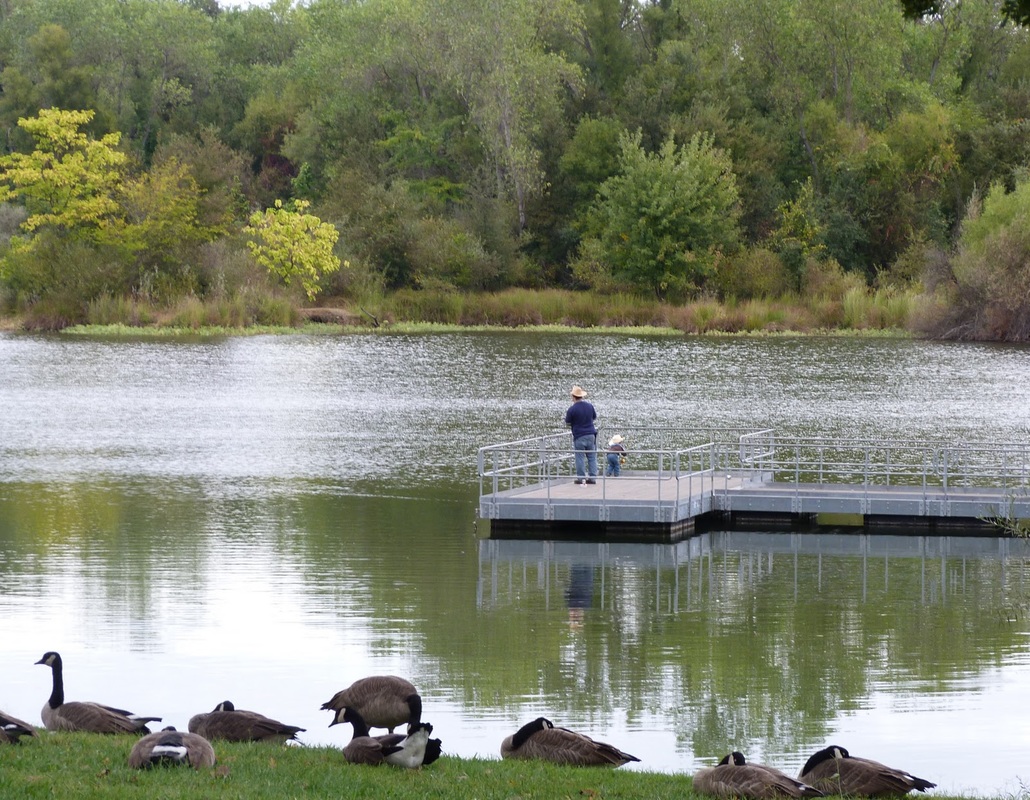 Anderson River Park, courtesy of Google/Images .
The California Department of Fish and Wildlife is looking for volunteers to assist with the upcoming free kid's fishing day events. The day is rewarding and easy; some handing out loaner fishing rods and bait, others baiting and casting lines, helping net fish, and offering help to remind a new angler that they might want to set the hook on a bobber that disappeared 30 seconds ago. The smiles you get are bigger on your face than the ones on the faces of the young anglers you help. Besides the time of your life, a free lunch is usually thrown in as well.
Having personally been a volunteer for many years, these are dates I block out on my calendar as soon as the days are announced.  The events are that much fun! And, I know that I'll be introducing a new angler to a sport I love, and one they can enjoy for a lifetime. Helping a child and seeing their reaction when they catch their first fish, is priceless. High fives and big smiles go a long way.  
The dates and location for the upcoming free fishing days are:
April 14 - Bass Pond in the BLM Bend Recreation Area off Jellys Ferry Rd near Red Bluff
April 21 - Anderson River Park in Anderson
May 19  - Ponds at Lassen Pines Christian Camp off Hwy 299 near Viola
There are plans underway for a possible date and location in October -  to be announced soon.
For anyone interested, please contact Monty Currier at 530- 225- 2368, or Ms. Virginia Evans at 530-225-2361.
I had stopped by my first event to take a few pictures and write a quick story while at a nearby fishing outing. I picked up a net to help, never returned to my own fishing, and have been going back to every possible event since.  Please join us.
Gary Heffley has been a valued contributor to MyOutdoorBuddy for over 10 years serving as manager, sales representative and reporter for much of Northern California. He is an avid outdoorsman and loves to fish and write about his adventures. He has a long history in the Sporting Goods field and uses that extensive experience to impart his wisdom in his writing. 
Shop Torn Waders
Not found in stores, these hand poured jig heads are made using a custom mold to accommodate heavy wire, super sharp, world famous Gamakatsu® hooks.  Individually powder painted and baked for ultimate toughness – these jigs come in unique, specialty colors.  The final touch is the hand wrapping in complimentary colors of marabou with the perfect amount of flash.  Each jig is hand crafted and hand tied, making each jig one of a kind.  Although specifically designed for Cutthroat Trout, these jigs can be used for other species, including Steelhead.